Tussock Upstairs Gallery
Tussock Upstairs Gallery is located in the heart of Point Lonsdale's busy tourist strip. The gallery has now been operating since March 2012.
Opening Times: 
Weekends 10am – 5pm
Public Holidays: 10am – 5pm
Summer Holidays:
December 27th –  January 19th – Daily 9.45am – 4.30pm
January 20th – 24th 10am – 2.15pm
Exhibition Proposals
We are seeking expressions of interest from artists seeking a gallery that offers great exposure to  high visitor numbers. We offer a range of exhibition options including solo, group and our new initiative "Gallery Spaces" whereby artists are offered a range of options and rates for an exhibition space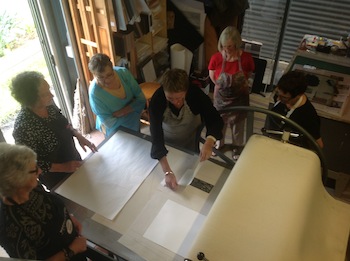 Workshops
At Tussock Upstairs we offer a variety of workshops in linocut printing, acrylic painting and drawing. Click here for more info.
'The Arts Fair 2020' – Sat 8th February – Sun 22nd March 2020
Opening drinks – Saturday 8th 3-5pm
Last Drinks – Sunday 22nd March 2020
Local artists and artists connected to Point Lonsdale feature in 'The Arts […]