The January Collection features the soft and seductive watercolours of Priscilla Fenton and the imaginary worlds of Anne Hastie and Jenny Laidlaw.
Robyn Makay and Anne McMaster will be exhibiting beautifully crafted etchings, mono and linocut prints.
Stephen Wright and Keith Smith will be presenting highly detailed watercolour paintings of local landscapes, the sea and the snow.
In her latest body of work Gillian Turner explores and records subtle reflections through photography.
Paul Waycott will be showing his latest swirling clouds through the medium of silkscreen prints.
Along with a range of works shown during the year Tussock Upstairs is pleased to be able to present a special collaboration of computer generated Fibonacci works created by Jenny Laidlaw and Matthew Stevenson downstairs in Pasquinis Restaurant during January.
Robyn Mackay             Keith Smith                 Paul Waycott              Stephen Wright
Jenny Laidlaw             Anne McMaster          Anne Hastie                   Gillian Turner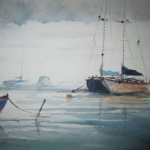 Priscilla Fenton