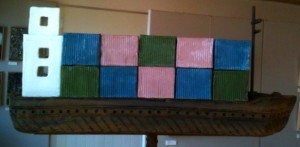 Opening remarks for "Elements" exhibition March 9th 2013
'Elements' is a group exhibition comprising of six prominent Bellarine artists
Mark Cairns, Joel Wolter, Michael Brand, Paul Waycott, Marnie Buckwell and Julie Shaw
They present to us recent small to medium scale work across the mediums of painting, printmaking, photography, jewellery and ceramics.
The elements of earth, water, fire and air are present in their works linked through materials, subject matter and their personal environment
Julie Shaw
    In the ceramic sculptures "Sailing" "Loaded" and  "Flying" Julie Shaw presents us with iconic images that we relate to, the sailing boats that drift across Bellarine waters, the container ships that we see moving through the heads every day and the birds that delight us with their presence. By presenting them to us at eye level maybe Julie is asking us to think about them, what is being brought to our shores in the coloured containers everyday, do we value the past pleasures of sail, do we value our birds?
Mark Cairns                                 
Mark on the other hand is inviting us to reflect on the simplicity of the man made shipping markers, moorings and beach signs that are somewhat antiquated or redundant, some being replaced by satellite navigation, others just worn and rusted by time. He captures the flatness of the Bellarine coastline yet at the same time presenting sensitive light and colours playing on water at low tide or in quiet rivers. One might ask is the little red boat abandoned in 'Rising Tide' or is waiting for its owner to use it once more? 
Rising tide (series) – Manly waters – Collendina night – Harbour shore
Bass strait blue (series) – Beach entry – Beacon marker I – Beacon marker II
East sign – Coastlines – Bass Strait – Incoming tide
Paul Waycott
Paul focuses on two aspects of life at Point Lonsdale. The Moonah trees which we can see from here and the ever-present seagulls. His spontaneous expressive application of thick paint captures the ruggedness and toughness of the trees, he captures a feeling of their survival in a seaside environment. They are a place of rest for the magpies almost disguised within their foliage. His view of the seagulls is not one that we often delight at as we watch them soaring or gliding above us an experience we love but Paul focuses in on the fighting that occurs between them when a chip or a milk carton is on offer. Once again his spontaneous application of the paint reflects the aggression the seagulls have toward each other when put in this situation i.e. fighting over a chip, or is Paul suggesting that we think about our impact on the seagulls natural ways?
The chip #1 – The chip #2 – The chip #3 – The chip #4 – Pink Milk
Moonah #1 – Moonah #2 – Moonah #3 – Moonah #4
Michael Brand
Michael places us in totally different worlds through his digital prints, worlds of space and atmosphere. Places that are beyond our influence as shown in the soaring Ibis. His 'Sea Mist' dominates the space to such a degree that it overwhelms the sea itself pushing it down to the bottom of the image. In the 'Red Cloud' he makes us wonder is it a sunrise, sunset or bush fire? Beautiful sensitive works
Red Cloud, 2012 – Ibis, 2012 – Sea Mist, 2012
Joel Wolter
The past seems to be the focus of the works of Joel. In his etching 'The Queenscliff Pier' we see it sitting alone, devoid of people now but we reflect on the fact that it was  once  the main entry and departure for hundreds of weekend tourists from Melbourne. The dark and ominous gun emplacement depicted in 'The Heads at Point Lonsdale' brings to our attention of a time long gone, yet suggesting the white lighthouse is still active. On viewing the other works one wonders who is the ship waiting for,(The Waiting Ship) who are the watchers in (The Watchers) and is someone going to appear from down the lane or is it a lane that is not used anymore? (Universal Lane)
The Waiting Ship, 2013 – The Queenscliff Pier, 2013 – The Heads from Point  
Lonsdale, 2013 – The Watchers, 2009 – Universal Lane, 2010
Marnie Buckwell
Marnie brings to us a delightful variety of jewellery pieces. Using materials such as wood, sponge coral, amber, copper, jasper and many others she combines them in such a way as to create pieces that reflect the personality of those attracted to them. The carefully considered combinations of materials reflects the sensitivity of an artist that understands thoroughly the elements of design yet at the same time is able bring an individuality to each piece