July Exhibition                               
Three artists are exhibiting their recent works at Tussock Upstairs Gallery during July,
Michelle Breton, Kate Hudson and Carolyn Roberts.
Michelle Breton
Michelle believes there can be no present without a past. The past has a place in her work, it engages her and gives her a sense of the future. Michelle wants to acknowledge the past in order to seek out her place in the present. Michelle believes that painting for her is similar to an archaeological excavation, but in reverse: rather than digging to discover the past, she builds layers to reveal it.
Michelle believes her connection to the paint and the surface (be it canvas, paper or board) provided her with the freedom to express herself. Her works in this exhibition are testament to this belief
Kate Hudson

Kate specializes in limited edition linocut prints in black & white and colour. Images of native birds, flowers and domestic items inspire her highly patterned and decorative prints.
Kate trained as a textile designer at the Central School of Art & Design in London and worked freelance for 6 years before migrating to Australia in 1990 with her young family.
She is primarily interested in the patterns and colours of the things she chooses to draw. This has been fostered by her training in textile design and a lifelong love of oriental art.
Kate does all her drawing, designing and block carving in her Eltham studio. She does her printing on the wonderful Albion and Columbian presses dating from the 1880's at the Australian Print Workshop in Fitzroy where she had a Collie Print Trust Emerging Victorian Printmaker Scholarship in 2005.
Carolyn Roberts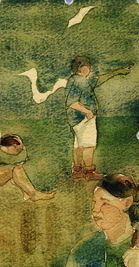 Conceptually Carolyn's work is broadly about the body and perception, both the physical body and also the ways in which we perceive our selves in relation to time and place.
Carolyn has been interested for a long time in the exploration of ideas concerning migration, dislocation and displacement. In all her work she likes to ask the question; "How does it feel?"
In her latest body of work Carolyn is concerned with the littoral – that place of transition between land and sea, the place where a voyage begins and ends – an unstable place where habitats collide, and   where people and sea birds gather.
Carolyn is exploring the technically challenging, but also very rewarding medium of water-colour, as a way that seems appropriate to resolve her latest works – narratives of the littoral.